1951 – 1960 The beginnings of Noritz baths
Founded on the belief that quality baths bring joy to people, the Company released its Noritz Bath Type A bathwater heater to the market in 1951, with the goal of broadening Japan's bathing culture and raising people's living standards.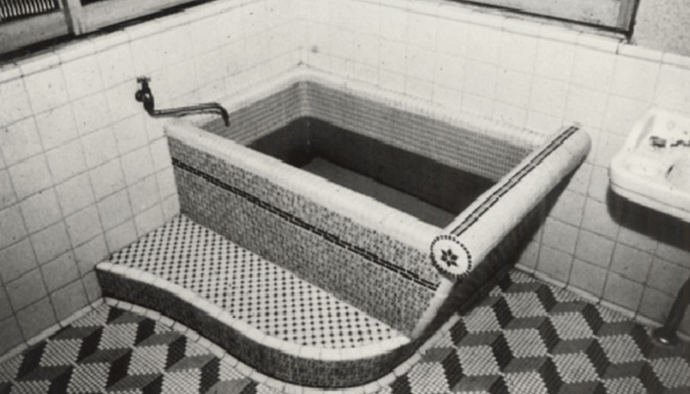 1951

Released the Noritz Bath Type A and B made with tiles that could efficiently retain heat

1956

Established research facilities
1961 – 1970 Pioneering the switchover to gas-powered bathwater heaters
In the 1960s, Japanese homes widely switched from burning wood and coal to using gas and oil for heat. Accordingly, Noritz began developing gas-powered bathtub water heaters, and launched its highly efficient and smartly designed GS model of water heaters made of aluminum instead of copper, which was commonly used for gas heaters at that time. This marked a major turning point for the Company's switchover from Japan's traditional heating systems to modern gas water heaters.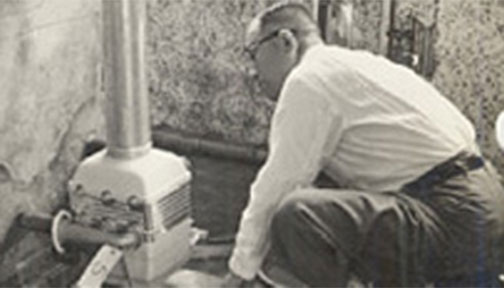 1961

Released the GS model gas water heater

1962

Built the Akashi Factory in the city of Akashi, Hyogo Prefecture, and began in-house production

1963

Released the GQ-4 compact water heater for kitchens and the OM kerosene boiler

1968

Changed the company name to Noritz Corporation

1970

Released the Magicon gas water heater controller featuring a switch for igniting and extinguishing the pilot burner from inside the bathroom
1971 – 1990 Developing multifunctional products
In 1977, Noritz released the Yu-Bic gas water heater, a compact and remotely controlled unit equipped with a water tank for instantly supplying a powerful and steady stream of hot water. With no competing products on the market, the Yu-Bic attracted attention from gas companies and established the Noritz brand as synonymous with hot water heaters.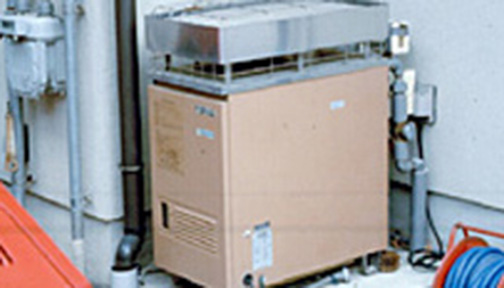 1972

Akashi Factory certified under Japanese Industrial Standards

1977

Released the Yu-Bic gas water heater, with a water tank for instantly supplying hot water

1982

Released the Yu-core GT Released the Yu-core GT gas water heater with an automatic bath-water reheating function

1983

Released the GRQ-1600A fully automatic gas bathwater heater

1984

Created a corporate identity and renewed the company logo

1986

Completed construction of an R&D center in the city of Akashi, Hyogo Prefecture
1991 – 2010 Expansion into the global
Exploring the possibility that high-efficiency gas water heaters made in Japan could succeed in the global market, Noritz entered the Chinese market at a time when the country was just opening up its economy. Noritz then began taking its highly efficient and functional tankless gas water heaters to the world, venturing into other Asian countries, Europe, and the United States, which was shifting from storage-type to tankless (instantaneous) water heaters amid increasingly strict environmental regulations.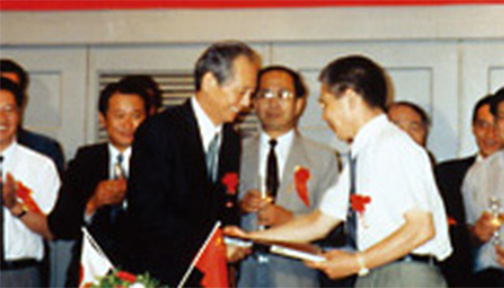 1993

Established Shanghai Shuixian Noritz Co., Ltd., as a joint venture in Shanghai, China

1995

Relocated headquarters to the Eiko Building (current location) in the city of Kobe, Hyogo Prefecture, after the Meikai Building was damaged during the Great Hanshin Earthquake

1996

Acquired ISO 9001 certification, the international standard for quality management systems

1997

Acquired ISO 14001 certification, the international standard for environmental management systems

1999

Renamed Shanghai Shuixian Noritz Co., Ltd. as Shanghai Noritz Co., Ltd.

2002

Established Noritz America Corporation in California, USA

2004

Established Noritz Hong Kong Co., Ltd. and Noritz (Shanghai) Home Appliances Co., Ltd.

Released the Eco-Jozu high-efficiency bath gas water heater.

2005

Established Noritz (China) Co., Ltd

2007

Completed construction of a second factory in Shanghai, China

2008

Entered the Brazilian market

2010

Released an integrated heating and solar panel system with space heating capabilities
2011 – resent Providing the simple comforts of life
While maintaining its founder's belief that "quality baths bring joy to people," Noritz marked its sixtieth anniversary by shifting the Group's future focus beyond bathing to the environment, safety, well-being, health, and beauty.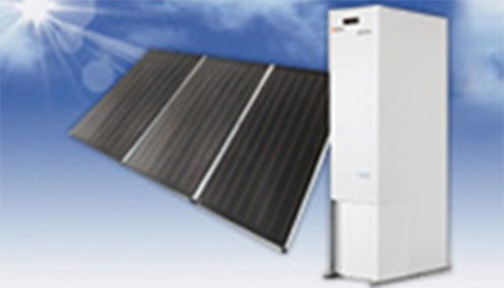 2011

Competed construction of the Eco-Products R&D Center

2013

Competed construction of the Contact Center

Released hybrid gas and electric water heaters

Acquired an equity stake in Sakura Bath and Kitchen Products (China) Co., Ltd., making it a subsidiary

2014

Acquired Dux Manufacturing Limited, an Australian water heater manufacturer, making it a subsidiary

2017

Launched the GT-C2462 series of highly efficient heat-recovery water heating systems designed to reduce bathing accidents

Released the EZ Series of tankless water heaters with a pre-mixed burner design, compliant with NOx emission and thermal efficiency standards in North America

2019

Acquired PB Heat, LLC, a US-based gas and oil boiler manufacturer, making it a subsidiary

2021

Acquired an equity stake in Kangaroo International Joint Venture Company